Dunham News
November 26 – 30, 2018
**Featured picture is our Kindergarten's thankful turkey.
---
November 21 – 23 – No School
We hope you and your family have a wonderful Thanksgiving!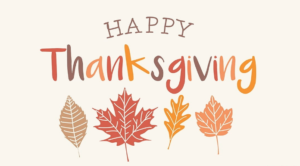 Kindergarten Students
We are excited to have our Kindergarten students transition to their longer day schedule on November 26.  Kindergarten will now dismiss at 1:30 on Mon, Tues, Thurs, and Fri..
Drama Performance
The second evening performance for "The Reluctant Wizard" has been rescheduled for Monday, November 26 at 6 pm.
Parent Conferences
We are in the process of rescheduling all the cancelled parent conferences.  If you are one of the parents who needs to be rescheduled, please anticipate either your child's teacher or the school office contacting you to set up a time.  Thank you in advance for your flexibility and support in this process!
Family Directory
Our annual Family Directory will be ready for pick up after the Thanksgiving Break.  If you would like a hard and/or digital copy, please let the office know and one will be sent/made for you.  Because of the amount of information, we will not be sharing the Family Directory via digital link on our website.
Create and Donate
Interested in making your own home decor and/or giving a creative, thoughtful gift for the holidays?  Then you and your child(ren) should plan to come to our 'Create and Donate' fundraiser on December 2nd (see attached flier).
Holiday Shopping
Doing some holiday shopping through Amazon?  Be sure to sign up for Amazon Smile.  If you have Amazon Prime, you can still do Amazon Smile, which donates some of your spending towards our school.  Search Dunham School PTO using the following link:
smile.amazon.com
---
Next Week at Dunham –
Monday, November 26
Kindergarten Students begin 1:30 Dismissal (M, Tu, Th, F)
6:00 – 7:00  Drama Performance – "The Reluctant Wizard"
Tuesday, November 27
PE Day, remember to wear your tennis shoes!
2:45 – 3:45  Site Council Meeting
Wednesday, November 28
10 am – 9 pm  Play and Donate at Scandia
Thursday, November 29
Friday, November 30
PE Day, remember to wear your tennis shoes!
Upcoming Events
December 2 – Create and Donate in the Community Room
December 3 – Morning Assembly, 4th Grade Spotlight
December 5 – TRIBES, Kindergarteners join a TRIBE
December 9 – Dine and Donate, Grav South
December 10 – NED Assembly, Focus:  Growth Mindset
December 11 – PTO Meeting and Dunham Board Meeting
December 19 – Cal Skate Night
December 21 – Minimum Day, Student Dismissal at 11:45
December 24 – January 4 – School Closed for Winter Break
January 7 – No School, Teacher Workday
CLICK HERE TO DOWNLOAD THE ENTIRE FRIDAY FOLDERS COMBINED PDF FILE
Friday Folder – Individual Files (Click to download)